Lucy Ayrton was featured on the Jericho Writers blog recently with her story about the time it took to get her first book published.  Lucy's debut novel, One More Chance, is out 28th June (ebook and audio) and 15th November 2018 (paperback) with Dialogue Books. The novel follows the story of Dani, a London prison inmate, and combines physiological suspense with contemporary women's fiction.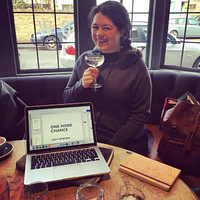 "The first time I thought I'd finished my novel was in November 2015. It was 80,000 words and it had a beginning, a middle and an end, and I'd given it to some friends for feedback and made some minor changes. I was DONE. Well done, me!
I sent it off to a couple of competitions and put my feet up, resolving to send it to some agents in the new year. I felt very, very pleased with myself.
The next time I thought I'd finished my novel was the summer of 2016.
I'd been shortlisted for one of the prizes I entered and had some feedback from agents and publishers. I'd done a rewrite, swallowed my pride, deleted a load of my beautiful, precious words to make way for new ones, and done another proof.
I mean … NOW I was done, right?
The next time was the spring of 2017. I had found a brilliant agent who loved my book and had some ideas of how to make it even better. We had worked on it together, tweaking, making changes, polishing and rearranging. Now, it was the eve of the London Book Fair and we were officially ready to send it out on submission. The book was surely finished.
In September that year I started working with my publisher and editor. Of course, the fact that "editor" is a job title should have tipped me off that she may want me to spend further time on the work. I was really happy about the changes that we were making together! It was exciting to be nearly finished.
In October that year I discovered that line edits were different to structural edits.
In November I discovered that copy edits are different again.
In January this year, I was sent a fully typeset manuscript to proofread. My book, typeset! Now for real it was done, hurray!
All I would have to do, I was sure, was have a quick skim through to make sure it was all in order – something I had done many times before – tell them it was all okay, and we were off. I set aside a whole day to do this, which seemed excessive. I figured I would probably be able to knock off and go to the pub mid-afternoon.
In late March, after a fair few back and forths and me spending an entire panicked weekend staring at a text, believing myself to have forgotten how to read. (Professional proofreaders spend FIFTY HOURS with a novel, guys! It turns out you can't knock it out in a long afternoon.) I got an email from my production manager. She said that this was the very last round of edits, and that after this one, we wouldn't make any more changes – it would be sent to the printers. It would finally and truly be done.
As I emailed back the approval, I didn't feel as triumphant as I thought I would. I felt a little bit sad, almost scared. I'd spent so long with that book, with my protagonist and in my world. I didn't really want to let her go. I love that book. What if I couldn't write anything as good ever again? I almost didn't want to sign the proofs off.
But I did it. I hit send, and I turned back to my work in progress. And over the next couple of weeks, I found I had a lot of energy on this new project. It seems so unlikely that a scrappy little manuscript will ever come to anything, but I think this one can. I know I could do it again, you see, because I've done it before.
I've finally finished a novel."